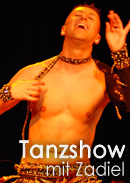 17.-18. Mai 2013 REGENSBURG/ GERMANY
Zadiel performt an 2 Abenden im stylischen türkischen Restaurant/Lounge LA VIE in Regensburg, Bayern!

Resevierungen bitte über LA Vie sobald wie möglich vornehmen!


Web:
www.cafelavie.de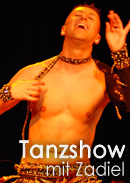 23.-26. May 2013 RICCIONE, RIMINI, ITALY


12th ORIENTAL EMOTION DANCE CONGRESS


Zadiel again as one of the main Teacher at the Congress.

2 Shows in each Galashow!

Informationen auf Deutsch über Zadiel!
Der Congress findet im eigens dafür gebuchten großen Hotel am
Meer statt.

E-Mail:
FrancescaFassio@libero.it


Web:
www.newemotion.net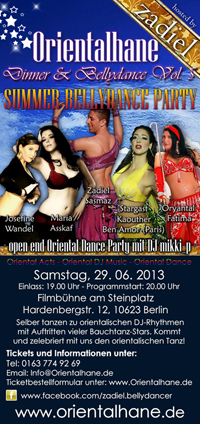 29 Juni 2013 BERLIN, GERMANY


ORIENTALHANE No. 5
SOMMER BELLYDANCE PARTY
Dinner & Dance

Oriental Music - Bauchtanz Acts - Orient DJ Mikki_p
Lecker Cocktails trinken und zu orientalischen Beatz abgehen!


STARS:

Zadiel Sasmaz (Türkei)
Kaouther Ben Amor (Tunesien/France)
Josefine Wandel (Germany)
Maria Asskaf (Syrien)
Oriental Fatima (Germany)


Die ultimative Bauchtanz Party in Berlin!
Veranstalter Zadiel Sasmaz.

Informationen & Tickets auf der Webseite!


Web:
www.
orientalhane.com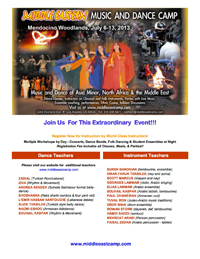 06.-13 Juli 2013 MENDOCINO, CALIFORNIA, USA


MIDDLE EASTERN MUZIC AND DANCE CAMP CALIFORNIA


Zadiel again at the Camp!
Performance and classes with 25 other Artist from all over the World one week at the 24th Oriental Dance CAMP !!

Informationen auf Deutsch über Zadiel! Das Camp wird von
allen Teilen der Welt besucht!


E-Mail:
Joshkun@middleeastcamp.com


Web:
www.
middleeastcamp.com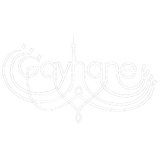 27. Juli 2013 BERLIN / GERMANY


SHOW mit Zadiel bei dem berühmten SO36 Gayhane

Party Event "House of Halay" in Berlin


Web:

www.So36.de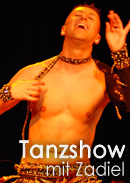 07. Dezember 2013 MÜNSTER / GERMANY


Zadiel als Stargast bei:
,,Augen des Orients,,
Leidenschaft und Poesie
in der Stadthalle Hiltrup in Münster
E-Mail:
gabriellastanzoase@web.de


Web:

www.gabriellas-tanzoase.de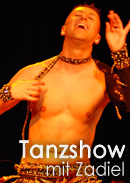 28, 29, 30 November 2014 ROM / ITALY


Zadiel again at the great Marhaba Festival in Rom!
More details coming soon.


Web:

www.taus.it